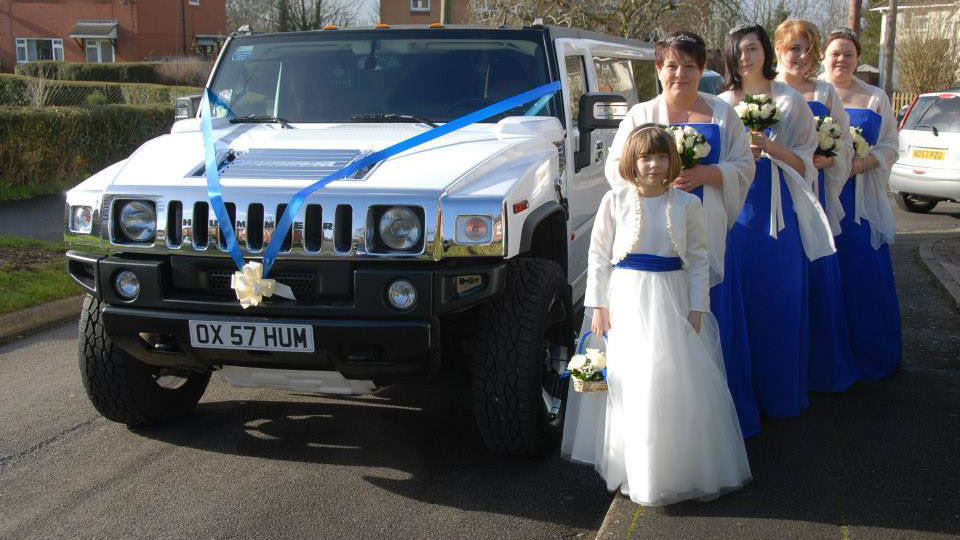 Here at The Oxford Limousine Company we take Weddings very seriously, having catered for numerous weddings in the past we understand how important and special this day is. Making an entrance on your wedding day can be one of the most important parts of this special day. From the vehicle you arrive in to the dress you choose, you will want the best, so why not let The Oxford Limousine Company take care of your travel needs.
We have years of experience in all different types of weddings and civil partnerships including Asian weddings, Chinese weddings, Brazilian weddings, Christian weddings and many more. We have several limousines within our fleet that are available and suitable for your special day. With a range of different limousines to offer you, all with their own unique style, there is something for everyone. Our most popular limousines for Wedding hire are both of our Chryslers that available in either silver or vanilla white. These are the perfect vehicle choices to transport the bride, her father and possibly her bridesmaids. However if you require transport for a larger party then why not pair up our silver and white Chryslers with our silver and white stretched hummer Limousines, these two Limousines make perfect pairs, finished off with ribbons and bows in your colour scheme you are bound to look the bell of the ball on your arrival. These larger Limousines are also ideal for shuttling wedding guests to and from your chosen destination/s.
Our grand Fleet of Limousines gives you a wide range of styles to choose from, whether you want a sophisticated, romantic or a fun wedding day, we here at The Oxford Limousine Company have a variety of vehicles to suit your needs. Make your wedding day even more memorable by hiring one/ or more of our Limousines, it is a great way to start of your special day. With plenty of room for your wedding dress to sit comfortably and luxurious interior you will have a moment of serenity before your big moment.
At The Oxford Limousine Company we also understand how important it is that your special day runs as smoothly and as perfect as possible. Our friendly team are therefore dedicated in making your time with us a stress free and enjoyable one. Who wants to stress over their transport on their wedding day? The answer is no one! Here at The Oxford Limousine Company we can guarantee you that we will aid you in every aspect of your booking, making you feel secure and happy with what your are purchasing. We have also learnt from experience that some couples like to view the wedding vehicle of choice before booking. For us this is no problem. Book an appointment with one of our friendly staff and you will be able to experience your chosen car directly, inspect it and hop inside to make sure this is the vehicle for you!
To get a quotation today fill out our quick online quote form and one of our members of staff will get back to you ASAP. If you wish to speak with one of our team directly, do not hesitate to contact us on 01865 865455 and a friendly member of our team will answer and questions or queries you may have.
Witney | Woodstock | Chipping Norton | Charlbury | Stonesfield | Eynsham | Yarnton | Kidlington | Maston | Barton | Headington | Blackbird Leys | Rose Hill | Cumnor | Botlley | Wootton | Abingdon | Didcot | Thame | Berinsfield | Wallingford | Watlington | Kirtlington| Faringdon | Southmoor | Bampton | Carterton | Enstone | radley | Kennington | Boars Hill | Marcham | Oxford | Wheatley| Sanford | Iffley Road | Cowley Road | Sandhills | Headington | Summer Town
GET A QUOTE