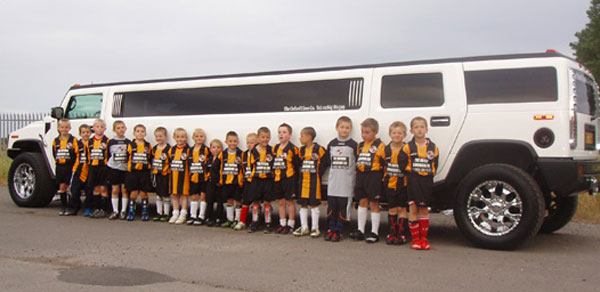 We all know that being a kid is all about having fun and experiencing new things and sharing these experiences with friends. Children will always want to do something special, so why not give your kids and their friends a treat and take them out in one of our stunning limousines. All of our limousines within our fleet come fully equipped with the latest hi-tech gadgets, including a very loud sound system, disco lights, onboard TV's, IPod connections, colour changing fiber optics and many more. Keeping them entertained on board is no problem. Each booking is supplied with soft drinks, waters and balloons, your kids will be treated and be feeling like celebrities. It is the perfect choice for transporting them to their party or event. It is also a great idea for a birthday present, why not hire out one of our limousines for an hour to whisk you around town and be treated like true VIP guests. If it's a trip to PIZZA HUT or a day out bowling, let The Oxford Limo Company take care of all your travel needs!
There is no doubt that your children will feel like stars cruising around in one of our limos before they are dropped off for a fun day packed with exciting activities. There is lots to choose from, with a fleet of 6 vehicles you are spoilt for choice! Visit our fleet page to have a look at what we have to offer, each individual limousine has its own unique style and offers something different; we can assure you that no one will be left feeling disappointed!
With over 15 years experience in the limousine industry we know how to maintain our vehicles and keep our customers safe!  All of our vehicles are subject to 9 week inspections and all our large Hummer Limousines are COIFED to meet VOSA's strict hire and reward safety regulations. All of what we do brings our limousines in-line with insurance regulations, there no need to worry, our top priority is the customers safely and we go that extra mile to ensure whist you have an amazing time you are comfortable and at ease. At the Oxford Limousine Company we are more than happy to forward supporting information or answer any questions you may have on limousine regulations.
To get a quotation today fill out our quick online quote form and one of our members of staff will get back to you ASAP. If you wish to speak with one of our team directly, do not hesitate to contact us on 01865 865455 and a friendly member of our team will answer and questions or queries you may have.
Witney | Woodstock | Chipping Norton | Charlbury | Stonesfield | Eynsham | Yarnton | Kidlington | Maston | Barton | Headington | Blackbird Leys | Rose Hill | Cumnor | Botlley | Wootton | Abingdon | Didcot | Thame | Berinsfield | Wallingford | Watlington | Kirtlington| Faringdon | Southmoor | Bampton | Carterton | Enstone | radley | Kennington | Boars Hill | Marcham | Oxford | Wheatley| Sanford | Iffley Road | Cowley Road | Sandhills | Headington | Summer Town
GET A QUOTE